About Alpine Family Chiropractic
Our Mission
Our mission is to provide the highest quality of care for every patient and get them out of pain as quickly as possible. We strive to provide a place where patients can feel comfortable asking any type of health questions and get the answers they need to take control of their own health. We are able and willing to help patients find other providers who can contribute to achieving their goals.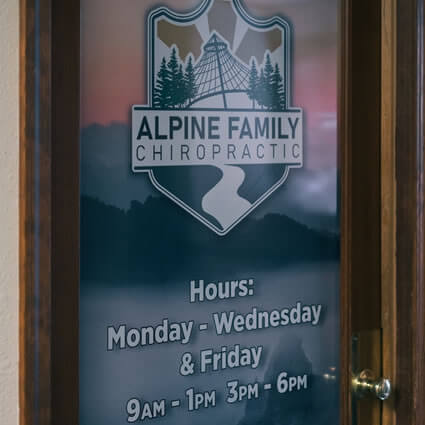 If we can't help you, we will find someone who can. We know how difficult it can be to navigate the world of healthcare, and we have built a network of providers who offer quality care and honesty, so we can refer you out with confidence.
MEET DR. ANDREW

Our History
Dr. Andrew earned his Doctor of Chiropractic from University of Western States and has been providing care in the Spokane area ever since. In early 2021, he purchased Alpine Family Chiropractic , which has been a chiropractic clinic for over 35 years.
We love helping patients who work hard and want to enjoy the beautiful outdoors here, or any other leisure activities—but they can't because their mobility has diminished or they're in pain. Many of our patients have researched ways to get better and incorporated stretching and other lifestyle changes into their routine, but they still haven't quite reached their goals. When they come in to see us, we're able to adjust their joints and get them back to enjoying life.
Get the Care You Need, Today
Lots of folks are shocked at how easy it is to get in, get seen and get care, and at how fast they feel better. There are no long waits for appointments, like with your primary care doctor. We can generally see you and treat you the very same day you contact us to schedule.
We look forward to welcoming you into our care and helping you get back to doing the things you love. Contact us today to schedule your first appointment.
---
About Alpine Family Chiropractic | (509) 466-9209